Helping mothers and daughters
embrace relationships and lives they love
Mother-daughter conflict traps people in cycles of suffering, and
can feel inevitable. But change and healing is possible.

Mothers and Daughters, ever wonder:
how things got so fraught between you?

why your conflict affects your life so much?

what you can do to heal?

I'm Zoe, and as a mother and a daughter, I know just how we and our families suffer when mothers' and daughters' needs and experiences are denied. And I know the unique pain and consequences of denying yourself.  I specialize in helping people heal their mother-daughter relationship through Mother-Daughter Relationship Coaching.

I work with mothers and daughters (either together or alone) to map individual reparative solutions and embrace relationships and lives they love.
Looking for something you can do to jumpstart mother-daughter relationship repair TODAY?

Download 6 Hidden Triggers of Mother-Daughter Conflict for FREE, and discover the 6 WAYS TO DEESCALATE CONFLICT right now!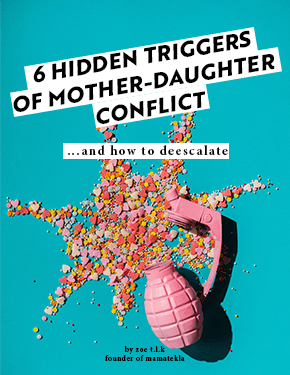 MOTHER-DAUGHTER RELATIONSHIP COACHING
Honors and repairs the relationship between mothers and daughters.
1) Discover what's causing conflict and emotional disempowerment in your mother-daughter relationship by...
2) ...uncovering which gendered dynamics and patterns are at work in the relationship.
3) Learn the language to voice what you feel, think, and need.
4) Spark generational change starting with you and your mother/daughter.
5) Catalyze healing in your relationships with your mother or daughter (present or not), and with yourself.

My approach maximizes your time with actively nourishing practices (not "homework" that, let's be honest, is tough to get to), that launch you forward on your unique path to you.

How can Mother-Daughter Relationship Coaching help you?

✨Download your FREE ebook to learn more about mother-daughter conflict and how mother-daughter coaching can help you!

✨Schedule your FREE consultation with me, Zoe! We'll talk about how I can help you on your journey to mother-daughter harmony.

 Zoe is:
- a Certified Mother-Daughter Attachment Coach via Mother-Daughter Coaching International (because all mothers are also daughters!🤯). You can learn about Mother Daughter Attachment and Rosjke Hasseldine (mother of MDA) here, and on her blog.

- a New Parent Educator, knowledgeable in all aspects of becoming a mother and new parenthood
- gender-neutral language and pronoun welcoming! Please simply say, "gender-neutral please!" on first contact